Positive Policy for Resuming International Exchanges
From 15th March 2021, Chinese embassies in at least 70 countries have begun offering facilitation to visa applicants who have been inoculated with China-produced COVID-19 vaccines as part of efforts to resume international exchanges under strict epidemic prevention measures.
- Embassy of the People's Republic of China in USA published following notice on their official website:
Source: http://www.china-embassy.org/eng/visas/zyxx/t1861379.htm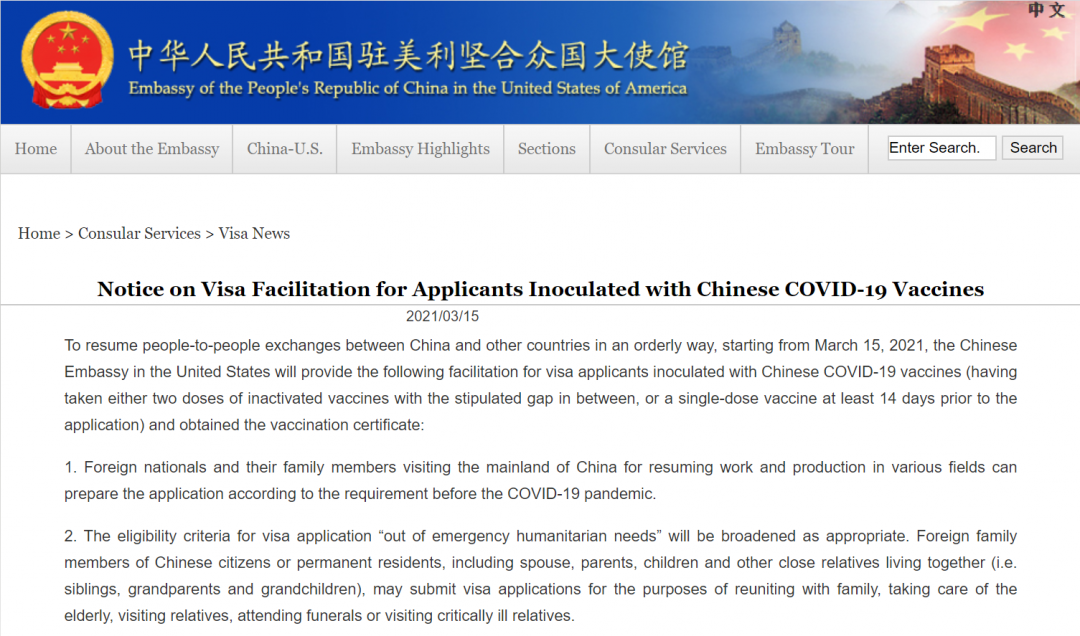 Notice on Providing Facilitation for Visa Applicants Inoculated with COVID-19 Vaccines Produced in China
1. Foreign nationals and their family members visiting the mainland of China for necessary business activities in various fields need only to provide the documents as were required before the outbreak of the COVID-19 pandemic when applying for a visa. It is no longer needed to provide the Invitation Letter (PU), Invitation Letter (TE) or Verification Letter of Invitation issued by the foreign affairs offices or the departments of commerce of the provincial (including autonomous regions and municipalities) governments.
2. Please be noted that the above-mentioned visa facilitation applies only to applicants who have been inoculated with COVID-19 vaccines produced in China, having either received two doses of Chinese-made vaccines with the stipulated gap in between, or received a single-dose Chinese-made vaccine at least 14 days prior to the application, and obtained the vaccination certificate.
3. The requirement that personnel intending to travel to China need to present double-negative certificates of nucleic acid and antibody (IgM) tests remains unchanged. The relevant Chinese quarantine policies shall be observed after entering China.
In the meanwhile, Chinese Consulates in at least 70 countries also published the similar notice as above:
Summary:
1.Documents required back to normal, no need PU letter anymore.
2.Benefited Visa type: Z, S1, S2, Q1, Q2 and M.
3.The policy is beneficial to who have been inoculated with China-produced COVID-19 vaccines (currently still a minority, but this is a positive policy signal)
4.There are slight differences in the notices issued by each Chinese consulate, so please double confirm with the local embassy, consulate and visa center for final confirmation.
If you need further contact, please call +86 17717319414 or long-press code to talk with us through wechat.